Ronaldo and Messi are the world's best.
If you're a football fan anywhere in the world, today is a pretty massive day.
Enjoy the match.
Cristiano Ronaldo vs. Lionel Messi
Lionel Messi vs Cristiano Ronaldo - who is best?
Lionel Messi and Cristiano Ronaldo are probably the two best soccer players to participate in the World Cup 2010 in South Africa. And recently Messi was announced World Player of the Year by FIFA.
But who is the better?
Both playing in the spanish league
La Liga
, the Messi of Argentina and Ronaldo of Portugal compete on their respective teams (F.C. Barcelona and Real Madrid) on being the top scorer in the league.
The similarities are plenty for the two top players. Believe it or not, as of October 2009 Both Lionel and Cristiano scored eleven goals this season in La Liga.
Both of them have incredible quick feet in the game, they have a fast pace, they seem to love running at defenders, committing defenders or to run from deep positions in the field. So the y are equal if you compare their technique, playing skills and look at them from a dribling point of view. Lionel Messi has a lower centre of gravity than Cristiano Ronaldo though, and he may be better in the tighter areas.
Ronaldo has scored the most goals though and seems to have become stronger in the last years. He has participated once in the World Cup 2006 playing for the national team of Portugal.
Messi has had some bad luck with injuries in the last two years, but that looks to be a past chapter. He will be playing his first World Cup this summer in South Africa on the national team of Argentina. And then he has recently been named World Player of The Year by FIFA
Sir Alex Ferguson has picked out Lionel Messi and Cristiano Ronaldo - rivals in next week's Champions League final - as the two most gifted players in the game.
GettyImagesRonaldo and Messi: Healthy rivalry?
The Manchester United manager believes the two stars' work ethic allied to their natural ability sets them apart.
Ferguson, who rates the quality in the Champions League as even higher than in the World Cup, also rates AC Milan's Kaka to an extent ''although he has never really taken my breath away''.
He told the latest issue of UEFA publication The Technician: ''There are some players, such as Kaka, Messi and Ronaldo who are innately gifted.
''But this is not enough, and there is a practice element which becomes very important.
''If you watch Cristiano Ronaldo, he practises after every squad training session, and quite a few others do the same.
''As a coach, we dedicate parts of the training to improving touch, movement, passing and speed of play, but the special quality, the detail, depends on the player being willing to sacrifice himself after training - this is a hallmark of the great players.
''If the big talents only rely on their natural ability, they won't have that extra edge. They must do something extra on their own.''
Asked which opposition players he rated highest, Ferguson replied: ''When I think of the current generation, Lionel Messi is top level and, although he has never really taken my breath away, Kaka has impressed.''
Messi and Ronaldo will come face to face in the Olympic Stadium in Rome, and Ferguson believes the Champions League is hard to beat when it comes to drama - even compared to the World Cup.
The United manager added: ''There are many good games at the World Cup, but in general the quality in the big UEFA Champions League games is, in my view, higher.
''I think that, overall, the UEFA Champions League is hard to beat when it comes to consistency, quality and drama.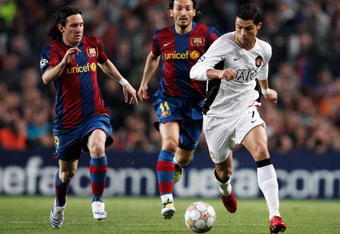 ''The World Cup, of course, is every four years, and big changes always take place with the departure of many players and coaches and continuity then suffers.''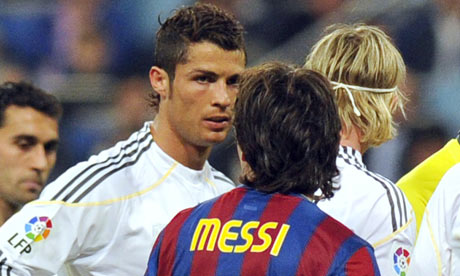 Ferguson also picked out AC Milan's Paolo Maldini as his favourite opposition player during his time as a Champions League coach.