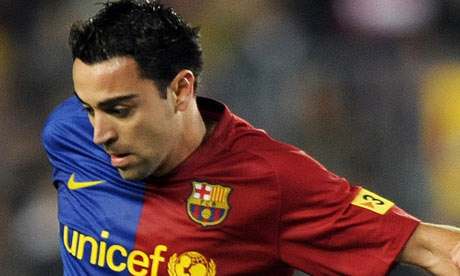 Full name: Xavier Hernández i Creus
Position: midfielder
Place of birth: Terrassa (Barcelona)
Date: 25-01-1980
Height: 170 cm
Weight: 68 kg
Debut: RCD Mallorca-FC Barcelona (2-1, Spanish Super Cup), 18/08/1998
Note: Xavi in FCB wears number "6" but in Spanish team "8" ( Iniesta is "8" in Barcelona and "6" in Spanish national team).
Xavi has spent all his footballing life at the Nou Camp, having joined Barcelona when he was only 11 years old. The progress he made was always very quick and in season 97-98 he moved up from youth team to Barca B.
Xavi's dream of making his official debut with the first team squad became true when he played in the Spanish Super Cup against Majorca in the summer of 1998. He was in the starting line up and scored: a better debut he could not have asked for.
A cologne
: Clinique's Happy.
A car
: Audi Q5 or Q7.
A watch
: I don't wear them. Puyol's.
A pending trip
: India.
It embarrasses you to
… not a lot of things, I'm not easily embarrassed.
I envy women for
… being upright and honest, and for their coherency.
You would go have a beer with
… my lifelong friends and teammates.
What kind of work wouldn't you like to do?
Surgeon.
A goal
: A bicycle kick by Van Basten with Ajax.
A football genius
: Maradona and Messi.
A coach
: All that I've had.
First stadium that you went to
: Camp Nou.
Your first ball
: Mikasa.
A game of Spain's that you remember
: the final of the Eurocopa. (note that this Q&A was canducted before World Cupo 2010;)
Your first kit
: Java Tarrassa.
A stadium that you would like to play in that's not your team's
: San Mamés and the Bernabéu.
Books, cards or videogames?
I'm more into cards – a bit of poker right now. But if I have to play videogames, I'll play.
What gets on your nerves?
When you're telling me something and you stop in the middle. You know, when someone asks you a question, and you ask them, "so where is this going?" and they reply, "I'll tell you later." Tell me or don't ask me!
Do you remember what was your first kiss like?
Yes! It was a spectacular experience.
What do you play on Play?
Nothing, I don't play. I play futbolín.
How many watches do you own?
A few, and all were gifts. I've never bought one in my life. I don't use them, they bother me.
What were your first boots like?
Patrick Silvers. They were really trendy…
Who did you ask for an autograph when you were a kid?
N'Kono, one day when Espanyol played in Terrassa.
What is your dog's name?
Tiro, but he doesn't live with me.
Which player has kicked you the most?
I don't get too many kicks.
What's the last TV series you've become addicted to?
Uf! Everything! From The Fresh Prince of Bel Air to El Cor de la Ciutat. I like comedies.
Xavi is a product of Barcelona's La Masia youth system and has been a regular at Camp Nou since the age of 11. He made his way through the youth and reserve teams and was a key member of Jordi Gonzalvo's FC Barcelona B team that won promotion to the Second Division.
His progression through the teams earned him a first team debut on 18 August 1998 in the Super Cup final, in which he scored against RCD Mallorca. His début in La Liga came against Valencia CF on 3 October 1998 in a 3–1 victory for Barcelona. Initially featuring intermittently both for the reserve and senior teams, Xavi scored the only goal in a 1–0 victory over Real Valladolid when Barcelona were 10th in the league. Sustained impressive performance meant that he became a key member of Louis van Gaal's title-winning team. An injury to Pep Guardiola in the following 1999–00 season meant that Xavi became Barcelona's principal playmaker, a position he has retained ever since.
He was a main part of Barcelona's treble and scored the 4th goal in the 4–1 win in the Copa del Rey 2008–09 final against Athletic Bilbao, with a free kick. In La Liga, among many games, one of the most significant is the 6–2 El Clásico victory vs Real Madrid on 2 May. He assisted 4 out of 6 goals (once to Puyol, once to Henry and twice to Messi). Finally, Xavi helped Barcelona win the 2009 Champions League Final versus Manchester United, which ended 2–0, assisting the second goal by passing the ball to Lionel Messi's header after 69 minutes.
Xavi was voted "UEFA Champions League best midfielder" for his contribution during Barcelona's victorious 2008–09 UEFA Champions League campaign. Xavi was La Liga's highest assisting player with 20 assists. He was also the highest assisting player in the Champions League with 7 assists. Xavi earned 29 assists overall that season.Xavi is under contract to Barça until 2014 after extending his contract during the 2008–09 season. The new contract will make him one of the club's biggest earners, and entitle him to €7.5 million a year.
During the 2009–10 season, journalists increasingly noted Xavi's contribution to the Barcelona side. For example:
"Quite simply the best midfielder in modern football, and one of the greatest 'centre' midfielders of all time. It could even be argued that Xavi and Lothar Matthaus are the two best in this position in history. World class for several years now, it is the past three seasons in particular where the 30-year-old has been untouchable. Xavi's passing is up there with Michel Platini, he creates countless goals with genius through balls while virtually never relinquishing possession."
In the 2009–10 season, Xavi again topped the assists table and provided both the assists in Barcelona's 2–0 victory against Real Madrid at the Santiago Bernabeu. He was acclaimed the 2nd best player of Barcelona in a season-long voting as Barcelona won the league title with a record 99 points. 3 June 2010, the Spanish, Madrid-based newspaper Marca awarded Xavi third place in the annual Trofeo Alfredo di Stéfano award for the best player in La Liga, behind only Lionel Messi and Cristiano Ronaldo.
On 9 June 2010, Xavi signed a new 4 year contract with the club, which may be automatically renewed up to 30 June 2016 based on number of games played. On 29 November he scored his third goal against arch-rivals Real Madrid in a 5–0 home win. On 18 December he scored another goal against RCD Espanyol in a 1–5 win. In the Champions League, Xavi scored a valuable goal against English side Arsenal FC during a home match in the UEFA Champions League that saw Barcelona passing through to the quarter-finals with an assist by teammate Lionel Messi.He was one of the three finalists for the 2010 FIFA Ballon d'Or, alongside Barcelona teammates Iniesta and Messi, he finished second on the vote behind Messi.He narrowly defeated Lionel Messi to win World Soccer's Player of the year.On 2 January 2011, in a league match against Levante, Xavi made his 549th appearance for the club in all competitions, matching the record held by Migueli. Following this match Xavi is the player with most appearances with Barcelona of all time.
Xavi Hernandez's abilities on the football pitch have led his teams to numerous titles and placed him among the most decorated footballers of all time. The playmaker has won major international titles with Spain and FC Barcelona in the FIFA U-20 World Cup, the FIFA Club World Cup and the FIFA World Cup. His successes on the European stage include winning the UEFA European Football Championship and the UEFA Champions League twice. Xavi is also a 5 time Liga BBVA Champion and played in the Barcelona side that won the famed unprecedented Spanish treble, which culminated in a record 6 trophies, the sextuple, in one calendar year. On 25 March 2011, Xavi earned his 100th cap for Spain in the 2:1 home win against the Czech Republic in a Euro 2012 qualifier.
Xavi Hernandez 08/09 -The legend- By Sjurinho